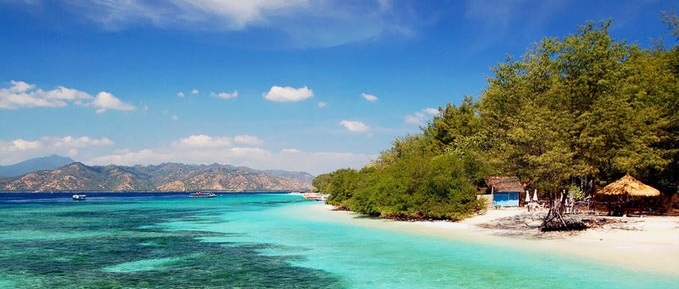 Located off the north-west coast of Lombok Island and one hour and a half journey from Bali by speedboat, Gili islands are considered as intact paradise islands where dream holidays can be made to come true. Initially visited by those searching for a getaway and a simple fun of sunshine, beaches and diving, this small archipelago of three small coral islands - Gili Trawangan, Gili Meno and Gili Air – has now been successful to receive more and more visitors. As a result, there are a large variety of touristic infrastructures that have been set up to accommodate the influx of visitors. Although there are some basic similarities between the three, each island has its own charm and is developed accordingly.  
Of the three Islands, Gili Trawangan is the biggest (340 ha) and the most dynamic one. Known as " a party island " for its evening entertainments, this island gathers large choices of accommodations, restaurants, bars, and dive clubs. Nevertheless, it remains holding many beautiful and peaceful places away from the crowded area around its pier. By getting a few hundred meters away from there, one find himself in a quiet place, see nobody and find the most beautiful beaches out there. Gili Meno is the smallest (150 ha with 700 inhabitants) and the least developed with only some modest hotels. This Island suits to those who are in search of rural seclusion. While Gili Air (175 ha) is the closest to Lombok which accommodates a large number of residences; almost 1900 people live here. This island retains its rural character; the tourist activity remains secondary despite the presence of a few hotels, bars, and restaurants.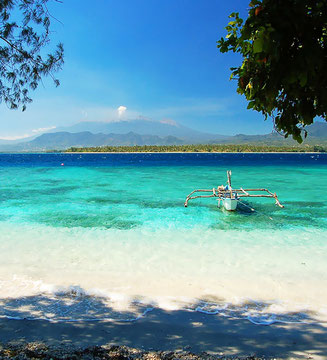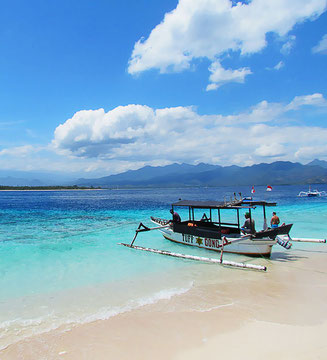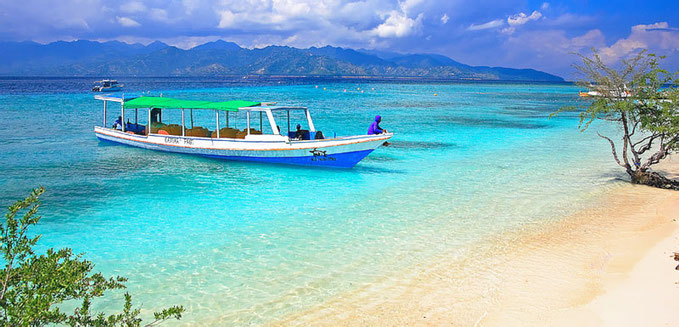 In spite of the implementation of miscellaneous touristic infrastructures, the atmosphere of Gili islands remains peaceful. The people live peacefully at the pace of sun and sea. No car and no motorcycle are authorized here; cidomos (carriages) and bikes are the only means of transportation to move and avoid walking under the sun. Peddlers or street vendors are strictly controlled, and robbery is very occasional.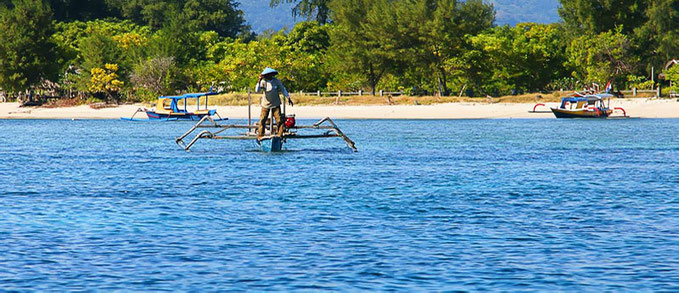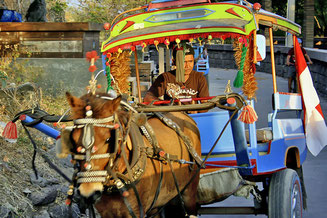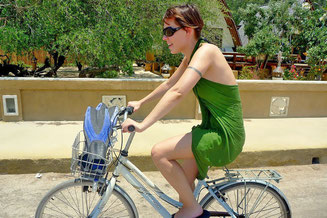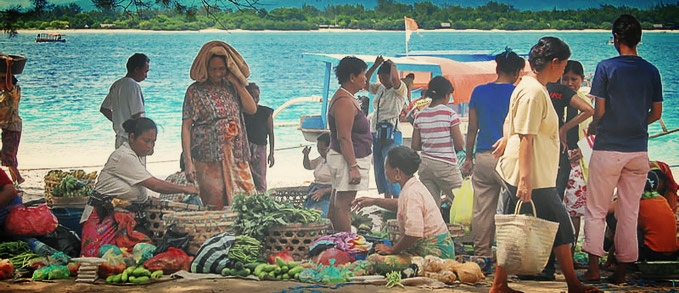 In clear weather, two volcanoes often offer amazing panorama : Mount Rinjani in Lombok in the morning and Mount Agung in Bali during sunset time.


As the waters along the beaches are very clear and the seabed is very rich in biodiversity, so Gili islands are a paradise for diving enthusiasts. Turtles and sharks pass over and over again and the micro fauna is abundant and varied. At some point, many parrotfish come to the corals to feed. There are about fifteen beautiful diving sites side by side such as : Trawangan Slope, Deep Turbo, Shark Point, Manta Point, Coral Fan Garden and more.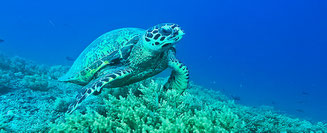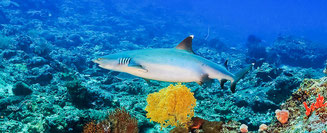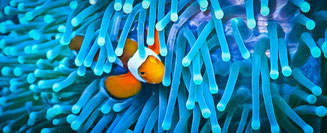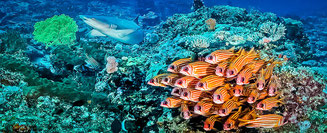 Even if you do not do the submarine diving, you just go on a glass-bottom boat and watch the seabed from it, or if you wish, you can get out of the boat for a snorkeling and look at it from the sea level.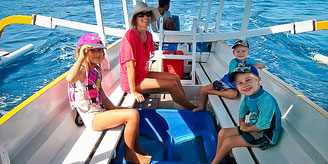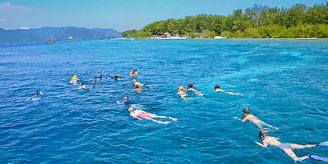 Aside from enjoying the beach, Gili islands reserve quite a few that offer funs and pleasures. Cycling inside Gili Trawangan through the coconut plantations and small villages out there is just right to discover the island and the local people. For the hiking enthusiasts, walking around the island can be exciting.  It just takes 2  hours (about 7km) following the coastal path that surrounds the island. The northwest and the west coast is really quiet with beautiful beaches almost abandoned. Here you will find some villages and local people in their everyday life, very few hotels and restaurants. Over the hill in the southwest offers a magnificent view of the other two islands, Gili Meno and Gili Air, as well as Mount Rinjani in Lombok.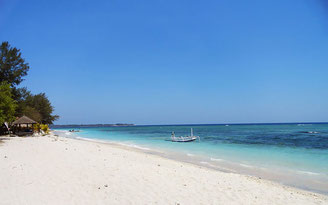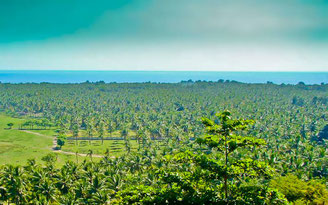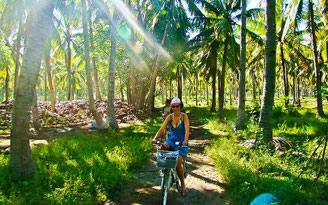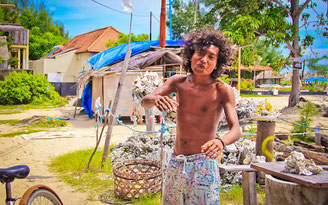 While in the waters not far from the beach, sea turtles are relatively easy to find, sometimes 50m from the beach. In spite of this, the conservation of this marine species which are in danger is continually intensified. South of the beach of Gili Trawangan, there is an incubator of turtles in an aquarium. Beginning with the incubation of its eggs provided by the local fishermen, turtle babies are raised up to 9 months before being released to their habitats in the surrounding waters.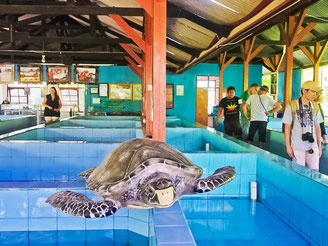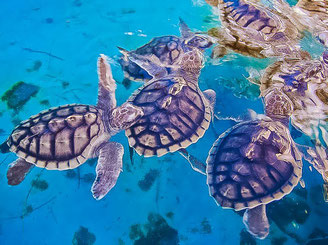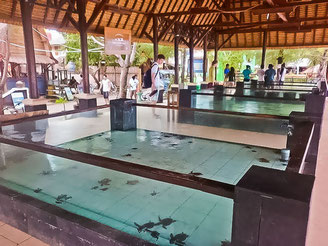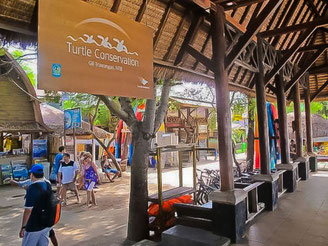 Given that Gili islands are very close from one to another, it is very possible to visit other Islands island in order to go diving or swimming down there and then return in the afternoon. It is the boat "Island Hopping" which makes a shuttle service between the three islands 2 times a day. Departure times are indicated on the paper given at the ticket office at the pier. Normally, departure from Gili Trawangan at 9:30 am and 3:30 pm, stop at Gili Meno and continue to Gili Air.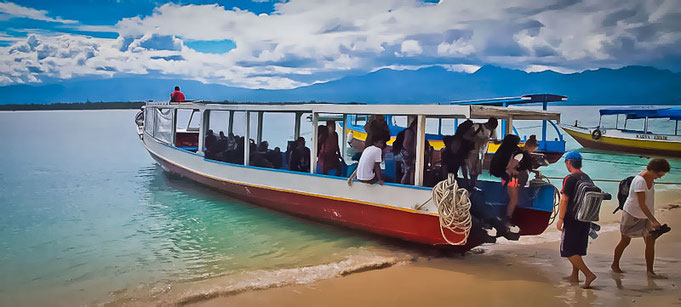 WANT TO GO TO THE GILI ISLANDS ?
In order to stay 2 - 3 days on Gili Islands after a thorough visit of Bali, just consider your stay of two weeks on the spot. Check out our questionnaire page check "Gili Islands".